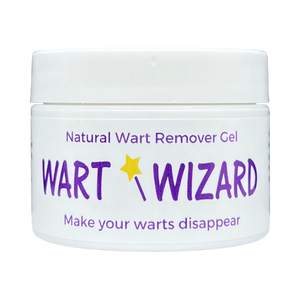 Wart Wizard
Sale price Price $19.99 Regular price $35.00
All Natural Wart Gel
Wart Wizard is an all Natural wart remover.  It is a blend of Apple Cider Vinegar, Lemon, and Frankincense oil.  It is safe for all ages and for all types of warts such as Plantar warts, common warts, flat warts, molluscum without burning or freezing them off.  Can be used for adults, children and pets.
Before and after, 3 weeks later with Wart wizard
I had terrible warts on my fingers and I had been to the doctors several times but they couldn't find a solution since the warts were under my nails.  I tried Wart Wizard and couldn't believe the first week I was already seeing results.  Within 3 weeks the warts of 5 years were gone from my fingers!  You can see the before and after pictures above! I am forever grateful for Wart Wizard!
My son has a bunch of warts on the back of his leg. The small ones disappeared with in about 3 days. 
I wasn't sure that anything would remove the wart from my hand, after trying many things. 7 days of using this, the wart is gone!
I used wart wizard for a blemish that appeared on my forehead. It took about 3 weeks but it is gone. I am very happy with the results. I am over 60 so I see more and more blemishes. I thought this was worth a try since it is natural. 
Step 1: apply Wart Wizard to wart with Q-tip, leave wet, do not rub in.
Step 2: cover with Band-Aid
Step 3: Repeat 1-3 times daily until your wart disappears!